1 - Who is your favorite character?
2 - What is your favorite Jack Sparrow line?
3 - What's your favorite movie, and why?
4 - How do you feel about the idea of the 4th movie?
5 - Who is your least favorite character?
6 - Favorite villain?
7 - Favorite Music/Song?
8 - How do you think Will is doing as the captain of the Flying Dutchman?
9 - If you could change one thing about any of the movies, what would it be?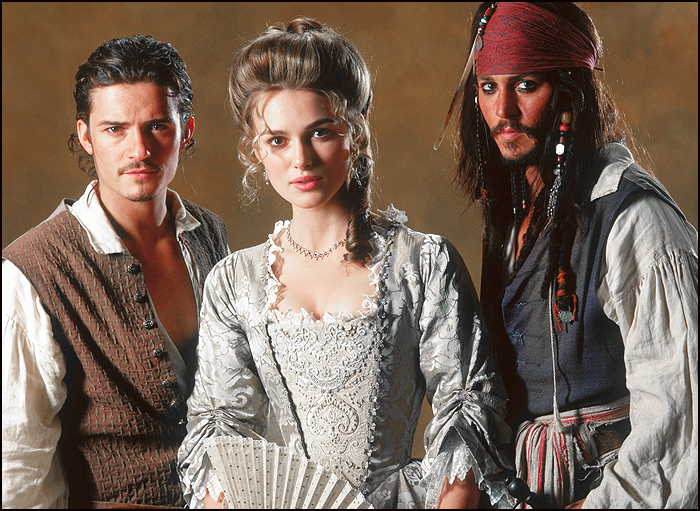 Nothing. They're perfect in their way. Even the sad events are important parts of the plot.
Changing something, we can't call this movie Pirates of the Caribbean anymore.
10 - What's your favorite scene from The Curse Of The Black Pearl?
11 - What's your favorite scene from Dead Mans Chest?
12 - What's your favorite scene from At World's End?
13 - Jack Sparrow or Will Turner?
14 - Scene/Moment that makes you cry
15 - If you could re-cast the characters, who would they be?
16 - - Scene/Moment that makes you giggle
17 - Which historical moment or circumstance should they explore?
18 - Favorite Will scene
19 - Favorite Elizabeth scene
20 - Favorite Jack scene
21 - Favorite Norrington scene
22 - Favorite Barbossa scene
23 - Favorite Relationship
24 - Favorite actual ship
25 - Prettiest Scene
26 - Something silly
27 - Something epic
28 - Favorite costume
29 - How do you feel about the female characterization in the films?
30 - Why do you enjoy Pirates of The Caribbean?
31 - Favorite accessory