Hello, dears! As the title says, I'd like to discuss with you some thoughts about potc5.
In these period I'm again in a strong potc mood, thanks to some rumors that I've heard. Some sites said that at this comic-con there will probably be a panel about the fifth movie and that maybe we'll know the entire cast. You can imagine my face when I read this news: I literally cried of joy! I have a positive attitude towards this movie, beacuse the 4th finale is open to whatever choice.
But let's go to a thought that is literally eating my brain. Well, as I said in my previous post, Orlando Bloom was honored with a star in the Walk of Fame and guess who was a guest? Jerry Bruckheimer. Well, they are of course friends, but usually in these ceremonies there are presents other people for advertising recent or FUTURE works. And, I don't know if you have noticed this, Orlando's hair are growing long. Maybe he'll return as Will Turner? OMG, if it'll we be so, I'll die. XD I have also heard that, in myths, the Captain of the Flying Dutchman is usually the king - or sort of- of the mermaids: this could be a nice relation between the old trilogy and the new movie!
Anyway, I stop my speech here, becuase I'm writing nonsenes. But I had to write it here, because my mind was exploding, lol!
Last but not least, I'm the new moderator of
pirates20in20
! So, if you're interested, join and sign-up!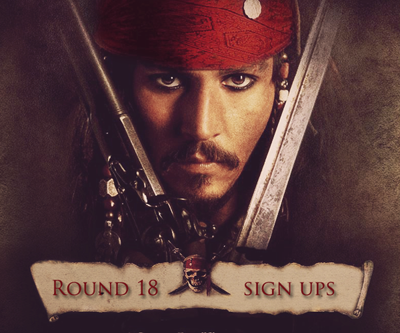 Join
pirates20in20
!
Sign ups for round 18 are now open!